Described in the simplest terms, a split system is a cooling unit wherein the evaporator unit and condensing unit have been "split" into two separate units instead of being contained within the same housing. The evaporator unit is located in or near your cellar, and the condensing unit is generally located outside, or in an attic or utility room.
The Platinum Series of split systems allow you to decide where the evaporator unit and the condensing unit will be located. The condensing unit can be located up to 100 ft. away from the evaporator unit. The evaporator unit will be mounted in the cellar or it can also be located nearby with ducting.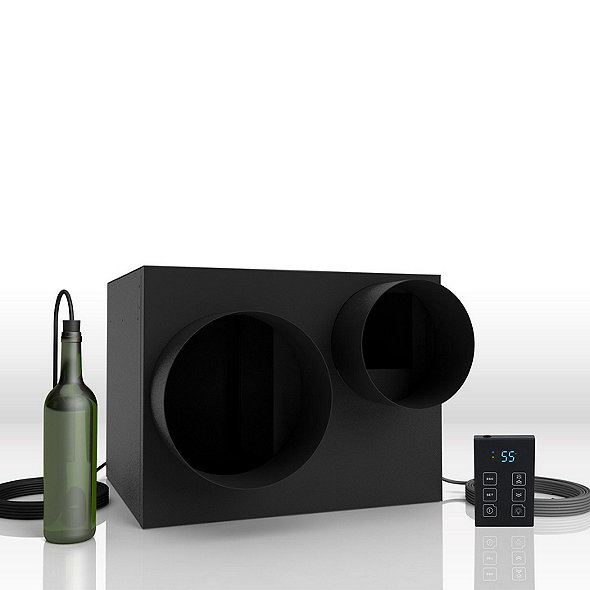 If you don't mind seeing the grille of your cooling unit in your cellar, a wall-mounted split system is what you need. If you prefer your unit to be out of sight, you should get a fully ducted split system. The choice is yours.
Note: A qualified HVAC-R technician is required for installation. Failure to have the system installed by a qualified technician will void the warranty.
The Fully Ducted Platinum Split is WhisperKool's newest model to the split line-up. Ducting a Split creates a virtually silent cellar environment and allows for maximum installation options. The system uses our liquid bottle probe for monitoring the actual temperature of the wine to ensure the wine is being kept at 55°F. The evaporator portion may be installed up to 25 duct feet from the cellar.
Product Features:
Virtually silent operation
An advanced electronic control system
Liquid bottle probe
Humidity control
Energy-saving mode
Alarm capabilities
Flexible installation
55F temperature differential
Condensing unit can be placed outdoors w/optional housing
WhisperKool Platinum Split 8000 (Fully Ducted) Specifications:
Cellar Size:

1750 cu. ft.

dBA: Evaporator

:

54 Decibels

; 

Condenser:

65 Decibels
Dimensions: Evaporator:  23.75"w x 15.5"h x 22.5"d; Condenser: 12"w x 13.5"h x 18"d
Weight: Evaporator: 57lbs; Condenser: 66lbs
Amps (starting/running): Evaporator: 2/1; Condenser: 11/4
Installation: Evaporator can be installed up 25 duct feet from the cellar; Condenser is installed up to 100 line ft. away.
Temp. Delta: 55°F temperature differential.
Thermostat: Digital Control Display
WhisperKool Platinum Split 8000 (Fully Ducted) Cooling System
Our goal is to keep the ordering process as simple as possible. Shipping times vary from 1-3 business days and delivery time varies between 3-10 business days if your wine cooler is in stock.
Please read through this instructional guide so you can understand how the process works and what you should expect to happen once you place your order with us.
Order Confirmation:
You will receive an order confirmation email as soon as you place your order.  This means that we have authorized your credit card for the purchase and are preparing your order for shipment.  

As soon as we receive your order, we automatically reach out to our warehouse to confirm that it is in stock and available for immediate shipment.  

If your item is on backorder or unavailable, we will reach out to you via email.

If your item(s) are available for immediate shipment, we will process the charges and submit the order for shipment.
Order Shipment:
If your order is stock and your credit card is approved by our fraud guarantee department, the

wine cooler 

ordered will ship within 1-2 business days from the date of your order.  

We will send you the tracking information within 24 hours to the email address you provided when checking out.  

We ship daily via UPS Ground, Fed Ex Ground, and Freight to the lower 48 states. Most all orders will ship the same day as ordered if the order is submitted before 1pm PST (some exceptions apply, some part & freight orders may not ship until the following day).  

Some parts orders and freight shipments are subject to ship the following business day if the order is placed close to the 1pm cut off time.

Shipping costs are included with any unit going ground to the lower 48 states. AK & HI ship by AIR at additional cost.

We do not offer Cash On Delivery.  

A phone number is required by the freight company so a delivery appointment can be made.  

Failure to provide this at the time of order may cause a delay in delivery as freight items will not be delivered without an appointment.   

A delay in delivery may also cause additional storage fees to accrue that will need paid prior to delivery.
Note to international customers: You are responsible for any and all duties or taxes that may apply. (see details below)
Customs, Duties, and Taxes: Import duties, taxes, and charges are not included in the item price or shipping cost. The recipient of an international shipment may be subject to customs brokerage fees, import duties, and taxes after the shipment reaches the destination country. Additional charges are the responsibility of the recipient because we have no control over these government-imposed charges and cannot determine what they may be. Customs policies vary greatly among countries. Therefore, we cannot, and will not, offer advice about taxes in your country. We report the amount of the sale on the Customs form. Please do not ask us to claim less than the actual purchase amount. It is the customers' responsibility to know the legality of the

wine cooler

s ordered in their country. Do not order items that are illegal to import into your country. Laws are different in every country and we cannot keep up with them all. It is your responsibility to check with your Customs office to see if your country permits the shipment of our

wine cooler

s to your country.
As the buyer, it is your responsibility to find out that information before you order.

Please contact your local customs office for information.

To avoid a delay in receiving your order from customs, consider the following:

Provide us with a phone number where you can be reached by customs when your

wine cooler

arrives. This phone number will be listed on the commercial invoice so customs can reach you to clear your order.

Please do not refuse a shipment or ignore requests from carriers regarding duty and/or tax liability charges. Be aware that most carriers will hold a shipment for 5 days after arrival in your country before they return it to the sender.

We do not refund original shipping charges for goods that are refused for delivery at customs.

We will deduct all additional fees resulting from refused international shipments from your refund.

If we are charged for YOUR taxes and duties on the shipment or incur any penalty or lawsuit related to your order or shipment, we will post the charge to your credit card.

If the package is seized by Customs for any reason and we do not receive the package back, we will NOT issue you a refund since, obviously, local laws and regulations determine the fate of the package. If we do receive the package back after being seized, you are still responsible for the shipping charges and any other fees plus penalties incurred.
We ship via UPS and FedEx for most

wine cooler

s, USPS for small parts and accessories, and freight for large

wine cooler

s.

If you don't receive tracking information from us within six business days of your order confirmation, feel free to follow up with us at support@winecoolerplanet.com
Damages:
Please inspect the packaging of your items when they arrive.

If there are any

wine cooler

s damaged upon arrival, you can file a warranty claim to get replacement parts for anything that's damaged.  

If your item(s) do arrive damaged, please send photos to support@winecoolerplanet.com and we will process an insurance claim on your behalf.
Cancellations & Refunds:
All orders canceled are subject to an administration fee equal to 15% of the total order amount, whether or not your order has shipped. This is a fee that covers administrative and personnel fees.

If your item is on backorder and you accept the backorder, we will hold your payment until the 

wine cooler

 ships. If you decide to cancel before a backorder arrives and is processed for shipping, we will not charge a fee.

If you order has shipped, you (the buyer) will be responsible for actual return shipping charges. Refunds will only be issued to the original credit card that you use when placing your order.
Backorders:
From

time to time, a

wine cooler

may run out of stock at our warehouse and the website wasn't updated when you placed your order. In that case, we will send you an email right after you place your order notifying you of the backorder, what the expected time for arrival is, and what substitutes are available in case you are interested in getting a bike sooner.

The expected arrival time may change due to unforeseen circumstances like a shipment getting held up at the port upon arrival or the factory missing a certain part needed to complete the manufacturing process.

If the arrival time changes on your order, you can let us know whether you would like to keep the order, substitute for a different

wine cooler

, or cancel the order altogether.

Once back orders arrive, we will notify you by email with your estimated ship date and you will receive an email with tracking information within 1-3 business days.
This section will give you the essential information about what to expect with the delivery of your item. If you purchased one of our large and heavy items your item will ship freight LTL will be delivered via a lift gate truck.
Important Freight LTL Shipment
When the item reaches your city or a city near yours the dispatcher will call you to set up a future delivery date and time with you. The item will not be delivered until you set up this appointment.

You need to be at the delivery address during the delivery window to receive and sign for the item.

The dispatcher will let you know what dates they have available. Delivery appointments can only be scheduled Monday thru Friday. The delivery times can only be scheduled in delivery windows of 8 am - 12 pm or 12 pm - 4 pm. Depending on the freight company the delivery window may differ. A fixed delivery time cannot be scheduled. Example 9:00 am. It can only be scheduled in a delivery window time frame.

Please make sure the phone number you entered at checkout is a good number to contact you at.

Don't screen your calls until your item has been delivered.

The item will be delivered via a lift gate truck with one delivery person. It will be placed at your door or the closet area near your door. Due to the large size, it may not be possible to be placed at your door.

Be sure to keep all your packing materials including the pallet. If you decide to return the item you will need to have all the original packing materials.
How to Handle Exceptions or Discrepancies at time of
wine cooler

Delivery (Carton packaging appears to have some damage such as ripped, holes, large dents, open carton, or items are missing):
Carton damage requires visual inspection of contents of the unit.

WineCoolerPlanet.com

recommends IMMEDIATE inspection, with driver present, to verify damage. If contents are damaged, indicate damage on carrier's paperwork and notify

WineCoolerPlanet.com

immediately.
IMPORTANT:

If contents cannot be inspected immediately, notation on carrier's paperwork must state:

"Carton damage, subject to inspection"

and list type of damage.

Contents must be inspected within 48 hours of arrival and actual damage reported to the carrier
Carton packaging has excessive damage with the exposed
wine cooler

:
Refuse shipment

Sign carrier paperwork: "Carton damaged and refused"

Notify WineCoolerPlanet.com immediately.
If you have any further questions about the ordering and shipping process, feel free to contact us by email at support@winecoolerplanet.com